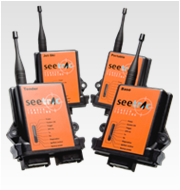 INTEGRATED FLEET SYSTEM (IFS) :
IFS is the Ultimate tool for tracking tenders.
IFS can support multiple Seetrac Combined Units (SCU), fitted to both Main Vessel and Tenders.
Position and depth information is shared between all vessels in the IFS. This permits Tenders and Main Vessels in a fleet to view each other on their onboard Charting System, and to "share" tenders within their private network.
An SCU equipped tender can operate as a "chase" tender. If a tender or jet ski presses the Alert button, this is received by the chase tender, as well as the main vessel. The chase tender can view the position of the tender in distress on it's onboard chart system, and proceed to it's aid, all the time being visible to the Main Vessel.